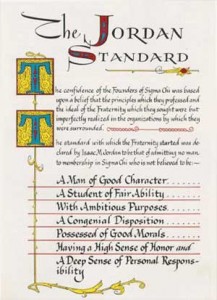 The Jordan Standard represents the minimum requirements for all rushes, pledges, and brothers to live by.
The Standard with which the fraternity started was declared by Isaac M Jordan to be that of admitting no man to membership in Sigma Chi who is not believed to be:
A Man of Good Character…….
A Student of Fair Ability…….
With Ambitious Purposes……
A Congenial Disposition…….
Possessed of Good Morals…….
Having a High Sense of Honor and
A Deep Sense of Personal Responsibility